Are DHI and FUE hair transplants different?
DHI hair growth is a very popular hair growth today. Have a higher chance of growing hair More hair growth than normal FUE hair growth, and also long hair growth Called the Long Hair Transplant too
In fact, FUE hair growth and DHI hair growth are no different. Why is this type of hair growth separate into FUE and DHI?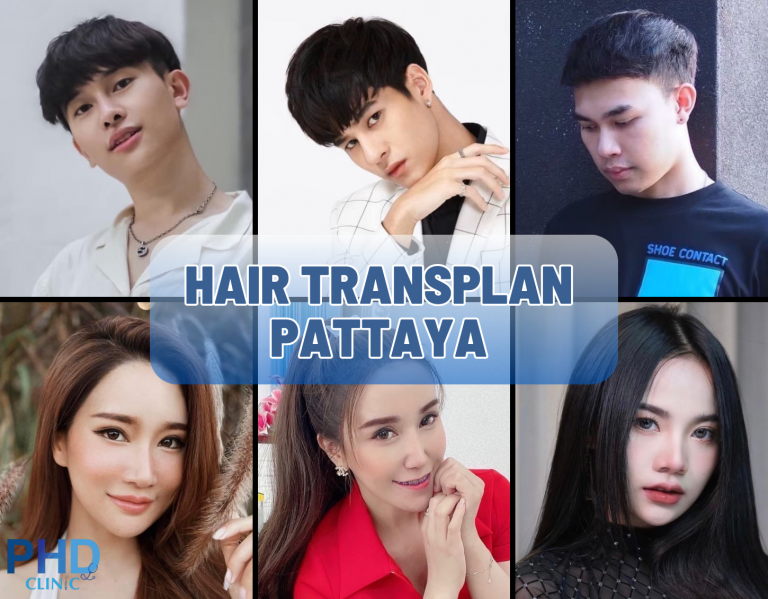 Misunderstandings between DHI hair growth and FUE hair growth
FUE hair transplantation is a hair transplant that stores hair graphs. By using an electric piercing machine (Trivellini), only the hair graph comes out of the scalp And grow into a new position By planting using forceps or using a hair transplant pen (Implanter)
DHI hair transplantation is a hair transplant that brings the hair graph out with an electric drill like FUE hair growth and then brings it to a new position with a hair transplant pen or Implanter
Therefore, DHI and FUE hair transplants are not different at all. DHI is a specific name for FUE hair transplants using a hair transplant pen only.
Hair transplant techniques certified by ISHRS
Currently, only 2 hair growth techniques certified by ISHRS are FUE hair growth and FUT hair growth
ISHRS (The International Society of Hair Restoration Surgery) or the International Hair Transplant Surgery Association Is a non-profit medical association. Is a global association that promotes both treatment techniques And medical ethics related to rehabilitation And treat hair loss
Where FUE and FUT hair transplants are certified Because there are two different methods of collecting hair grafts. and has a great effect on treatment
With a FUE hair transplant, the hair graft will be collected by drilling out only the graft. As for the FUT hair transplant, the hair graft is harvested by cutting out a piece of the scalp. Then it was cut and separated into graphs under a microscope again.
Who is FUE hair transplant suitable for?
People who have problems with excessive hair loss, thinning hair, baldness.
People who want to reshape their face To enhance the beauty of the face
People with a wide forehead or a receding hairline
Those who have little time Don't want to recuperate for a long time.
People who have thinning hair in the middle of their head
People who want to conceal head scars
Preparation before hair transplant

1. Refrain from taking the following drugs at least 10-14 days before hair transplantation
– Some herbal vitamins, supplements Because these may result in better blood flow Therefore, when a wound is created, it can cause bleeding problems more easily than usual
– Some drugs can cause bleeding problems easily and stop, such as aspirin, non-steroidal anti-inflammatory drugs (NSAIDs), etc. If there is a chronic disease that requires this type of medication, should consult a doctor who provides treatment first to determine whether the drug can be stopped or not
– If you are not sure which medication to stop or continue taking Please consult a doctor
2. In the case of a chronic disease Should consult a doctor who provides treatment first to determine whether hair can be grown or not. Or how to prepare before hair transplantation
3. Stop drinking all kinds of alcoholic beverages at least 3 days before hair transplantation
4. If you have very gray hair, please dye your hair before entering the hair growth. Will help to grow hair Easier
5. Refrain to drink all alcoholic beverages 2-3 days before hair transplantation
6. Sleep enough
Practices after hair transplant
Sleeping the pillow for the head to lift up to the body for 3-5 days to prevent swelling of the upper eyebrows and eyelids

You can eat all kinds of food as usual

Stop drinking all kinds of alcoholic beverages after growing hair to prevent further bleeding and swelling at the hair growing area

It is advisable to refrain from smoking as it may cause less blood to feed the hair that is grown than usual. May adversely affect the growth of hair that can be grown

Abstain from exercise 3 days after hair transplantation Then can begin to exercise By starting with a gentle exercise first, with a little perk and shock avoidance For swimming can begin 2 weeks after hair transplantation

You can wear a hat to cover the hair growth area immediately after hair growth, but be careful to touch the hair transplantation area that may cause the hair to grow

Can start to wash your hair for about 2 days after hair transplantation By avoiding touching the hair growing area, such as squeezing the shampoo from an overhead sponge, allowing the shampoo to flow through the planted area, etc. 8. After hair transplantation The hair that is grown will fall out during the first 1-2 months and will not grow immediately. May have to wait around the 4-6 months to begin to come back and see again. And those hair will gradually grow Until the final result is approximately 1 year to 1 and a half years. This condition is normal after hair transplantation. Therefore do not worry and ask to be patient until the end result of having full head again.
Why choose Hair transplant at Phd Clinic?
Doctor graduated from American Board Hair Transplant (American Board Hair Transplant).
International level ability. By being a member of the world association of hair transplant doctors (The International Society of Hair Restoration Surgery), which is an institution that certifies permanent hair transplantation around the world.
More than 16 years of hair transplant experience.
Trusted to take care of and service patients' hair in more than 10,000 cases.
Can guarantee more than 98% of hair growth results and be looked after for life by expert doctors.
Guaranteed many works. Quality guaranteed The results are clear. After planting, if the hair does not grow Guaranteed new planting for free
Trained and certified by many institutions.​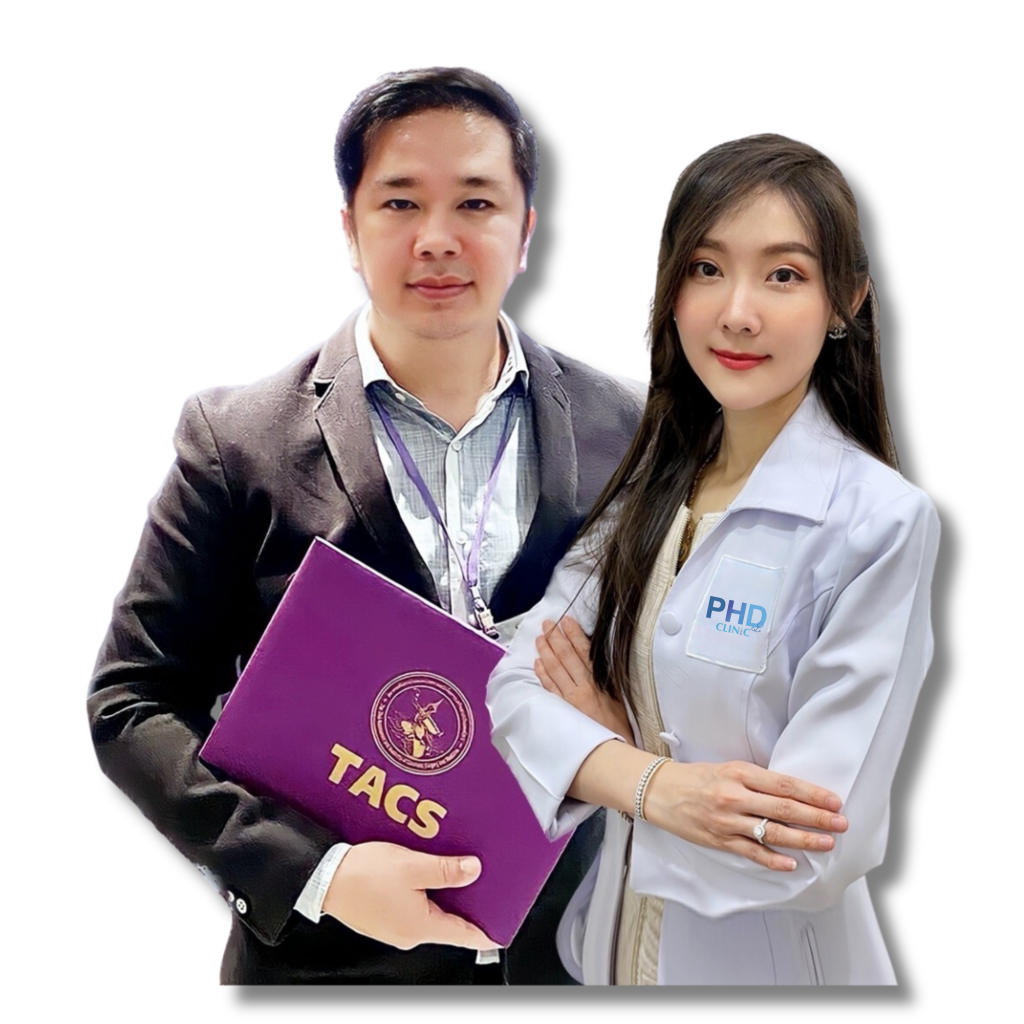 Dr.Teerasak Pattayadeekul (Moryadee)
Dermatologist, skin surgery/laser/beauty
MD.Msc.Phd Dermatology / LASER / Aesthetic Surgery.
Certificate facial plastic Surgery USA/ Cosmetic Surgery Korea
Fellowship cosmetic surgery KCCS
American Board Laser-Surgery at Fort Lauderdale Florida USA
Diploma of Hair Transplantation by Thai association and Academy of Cosmetic surgery and medicine
Dr.Thaweeporn Treepraphakorn
Doctor of Cosmetic Surgery/Laser/Hair Transplant Hair transplant board doctor (ABHRS)
Fellowship in Cosmetic Surgery/ Korean college of Cosmetic Surgery
American Board of Hair Restoration Surgery/ABHRS
Certificate Hair transplantation By Korean Society of Hair Restoration Surgery/ISHRS
Member in association of Aesthetic Anti-aging Surgery,Thailand
Certificate Liposuction by Korean college of Cosmetic Surgery
Member of International Society of Hair Restoration Surgery
Phd Clinic has 4 branches
1.Located 206/17 Meechok Plaza
Moo.6 Tumbon Faham,Muang Chiang Mai, Thailand 50000
 2.Located 574, Super Highway ChiangMai-Lampang Road, Tumbon Tahsala, Muang ChiangMai, Thailand
3. Bangkok branch,NSTDA Rangsit,Inc1 Building, National Science and Technology Development department ,131 Thailand Science Park, Phahonyothin Road, Tumbon Khlong Nueng, Khlong Luang, Pathum Thani 12120(3rd Floor, Rooms 307-308)
4.Pattaya Branch 194/5 and 194/6 Moo.9, Tumbon Nong Prue, Bang Lamung, Chon Buri, Thailand
Business hours
Monday – Friday 10.00 – 7:30 p.m.
Saturday – Sunday 10:30 a.m. – 7:30 p.m.
Tel. 053-230258
Tel. 062-3103799
Tel. 062-3103798
Tel. 061-8988771 Bangkok Branch
Tel. 061-8988771 Pattaya Branch